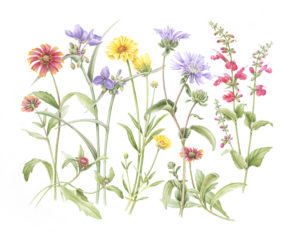 During the month of March, the Celery Fields teems with an astonishing diversity of birds and wildlife that come for the abundant habitat.
To celebrate the native plants found at the 440-acre storm water collection area known as the Celery Fields, the Florida Society of Botanical Artists has created a special exhibition – "Backyard Beauties: The Native Plants of the Celery Fields and Florida." More than 20 works of botanical art in graphite, watercolor, oil, colored pencil and other media will be on display at the Sarasota Audubon Nature Center.
"While Botanical art and illustration informs and inspires many art forms, the role of botanical art is to blend the scientific study of plants with their artistic presentation," said Susan Benjamin, president of the Botanical Artists Society. "Contemporary environmental interests and love of the natural world are bringing botanical art into the mainstream." The Florida Society of Botanical Artists is a local chapter of the American Society of Botanical Artists.
The exhibition will be on display daily from March 2 – 31 during operating hours – 9:00 a.m. to 1:00 p.m. For directions, visit www.sarasotaaudubon.org/events or call the Nature Center at (941) 312-6533.
Sarasota Audubon is the local chapter of the National Audubon Society, dedicated to the protection, conservation and enjoyment of birds, wildlife and the environment. Visit www.sarasotaaudubon.org for information on the organization's activities.
Caption: Pictured here from left to right:
Blanket Flower (Gaillardia pulchella) Spiderwort ( Tradescantia ohiensis) Tickseed (Coreopsis lanceolate) Stoke's Aster (Stokesia laevis) Tropical Sage (Salvia coccinea) are native plants of the Celery Fields. Botanical artist credit: Susan Benjamin