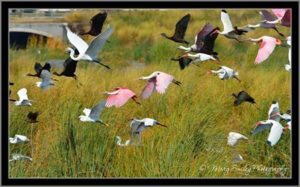 UPDATE from President Jean Dubi and Conservation Chair Rob Wright on the rezoning of land at the corner of Apex and Palmer.
You probably know by now that the Board of County Commissioners (BCC) tabled the item in March because the commissioners were uncomfortable not knowing exactly who is bidding on the property.
Several LLCs, trusts and foreign government entities were in the mix making the application murky. The rezoning issue is now on the agenda for April 26. Besides Sarasota Audubon, several other groups are involved, including several HOAs surrounding the Celery Fields.
SAS is urging the County to reconsider the zoning. We also want to be involved in future discussions about that parcel and the several other parcels at the corner of Apex and Palmer. It would be better to annex them to the Celery Fields as a habitat buffer or for additional low impact recreational use, rather than heavy industrial for sure.
Please keep contacting the BCC by letter, phone call or email telling the not to rezone and to add the parcels to the Celery Fields (Scroll down for Commissioner information.) Jeanne Dubi and Rob Wright
Original Post:
Many of you have asked about Sarasota Audubon's position on the county developing parcels near the Celery Fields.
Specifically:
The County plans to sell two of three parcels of "surplus" land located at the intersection of Palmer Blvd. and Apex Road just west of Celery Fields Park. Current bids have come from a 60,000 sq.ft. restaurant supply facility and a construction material and yard waste storage and recycling facility.
Sarasota Audubon Society OPPOSES this.
Here is why:
Since its inception, the 360-acre Celery Fields area has become a major attraction/recreation area for local citizens, outdoor health enthusiasts, and school groups; as well, it is a worldwide destination for Eco-tourism and Birding in addition to the primary function of retaining and cleaning storm water entering Phillippi Creek.
With the frantic pace of current development in the area, we oppose these land sales and rezoning for the following reasons:
The three lots in question, already owned by the county, contain enough acreage to provide a permanent fire station, additional park/recreation facilities for public use and create a planted wildlife habitat buffer zone from existing industrial uses.
The proposed businesses are not compatible with existing and increasing recreational use and Eco-tourism in the area. The proposed recycling/processing facility and restaurant supply depot will add hundreds of daily car, van and heavy truck traffic onto already strained and inadequate neighborhood roads. The increased traffic, debris, noise, vibration and exhaust fumes will have a major detrimental impact on the health and safety of birds and wildlife in the area as well as the humans who come to recreate and enjoy nature. Tens of thousands of tourists come each year to explore the Celery Fields and spend money locally, bringing a significant economic benefit to the county.
As development continues to surround the Celery Fields, available "Green Space" will become more and more valuable and necessary to preserving this "Jewel" of Eco-tourism. The Celery Fields is considered by many to be the "Central Park" of Sarasota County and a major economic driver for the future. Any action jeopardizing this funding source would not be prudent or a wise use of County resources.
These land sales are openly opposed by all conservation/citizen groups and nearby neighborhood associations. The citizens of Sarasota County, as the current owner of these properties, should be the driving force in determining how the land will be used in the future.
NOW IS THE TIME to make your voice heard on this issue by contacting your Sarasota Board of County Commissioners listed below to express your views. We appreciate your support.
Sincerely,
Jeanne Dubi, President
Robert Wright, Conservation Chair
Sarasota Audubon Society
999 Center Rd. Sarasota, FL 34240
How to contact your County Commissioners:
Michael A Moran, District 1, mmoran@scgov.net
Paul Caragiulo, District 2, pcaragiulo@scgov.net
Nancy C. Detert, District 3, ncdetert@scgov.net
Alan Maio, District 4, amaio@scgov.net
Charles Hines, District 5, chines@scgov.net
Please copy to Director of Planning Commission Matt Osterhoudt
mosterho@scgov.net
Want to talk about this?
Contact Conservation Chair Rob Wright at (941) 587-9665
Sarasota Audubon Society (SAS), headquartered in the Sarasota County Celery Fields Park, has a primary mission to advocate the conservation of habitat and educate the public on the value of these natural areas and the wildlife found there.
Photo Credit: Mary Smiley