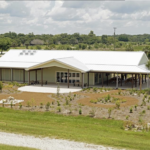 Team CSA has it's the Getting to Zero Status Update-2018 first official certified Net Zero Project- Audubon!  Congrats to Audubon and the entire design and construction teams!!!
On behalf of New Buildings Institute (NBI), we offer our heartiest congratulations on your efforts to pursue a zero energy (ZE) building. We have officially published your project in our 2018 Getting to Zero Status Update and Zero Energy Buildings List (see attached report). To recognize your outstanding efforts we would like to invite you and the rest of your project team to attend our Getting to Zero National Forum on April 17-19 in Pittsburgh, PA.  During the National Forum, we will be honoring your efforts by recognizing the champions that are driving this new standard for the built environment.
The National Forum is co-sponsored by NBI and Rocky Mountain Institute and gathers leading designers, owners, operators, commercial real estate professionals, policymakers, manufacturers and others interested in ZE buildings.  Attendees will share perspectives on the growth of ZE, discuss the policies driving new projects, engage in best practices for successful outcomes and collaborate on opportunities to make ZE a new standard for the built environment. More information about the conference can be found at www.gettingtozeroforum.org.
As a thought leader in energy efficiency and green building, your attendance at the recognition event as well as the Getting to Zero National Forum generally will bring experience and ideas that will enrich the dialogue and information shared throughout. We would like to offer you a discount code to attend the Forum at a reduced price.  The code is VIP10 and will take 10% off the registration rate.  In addition, we would like to invite you to bring a young professional to take part in the National Forum's NextGen Program for students and young professionals so they will be able to carry on the work that you have started. To encourage participation, we are offering a discounted rate of $245 for young professional registration.
Please let us know if you will be attending so that we can recognize you for your exemplary efforts by emailing Reilly Loveland at reilly@newbuildings.org or (206) 229-2539. If you or someone from your company has already registered, please confirm that you will be present at the recognition event the afternoon of April 18.  We would be delighted to honor you at the National Forum for your ground-breaking work and looking forward to seeing you there!
Sincerely,
Stacey Hobart
Director of Communications
New Buildings Institute