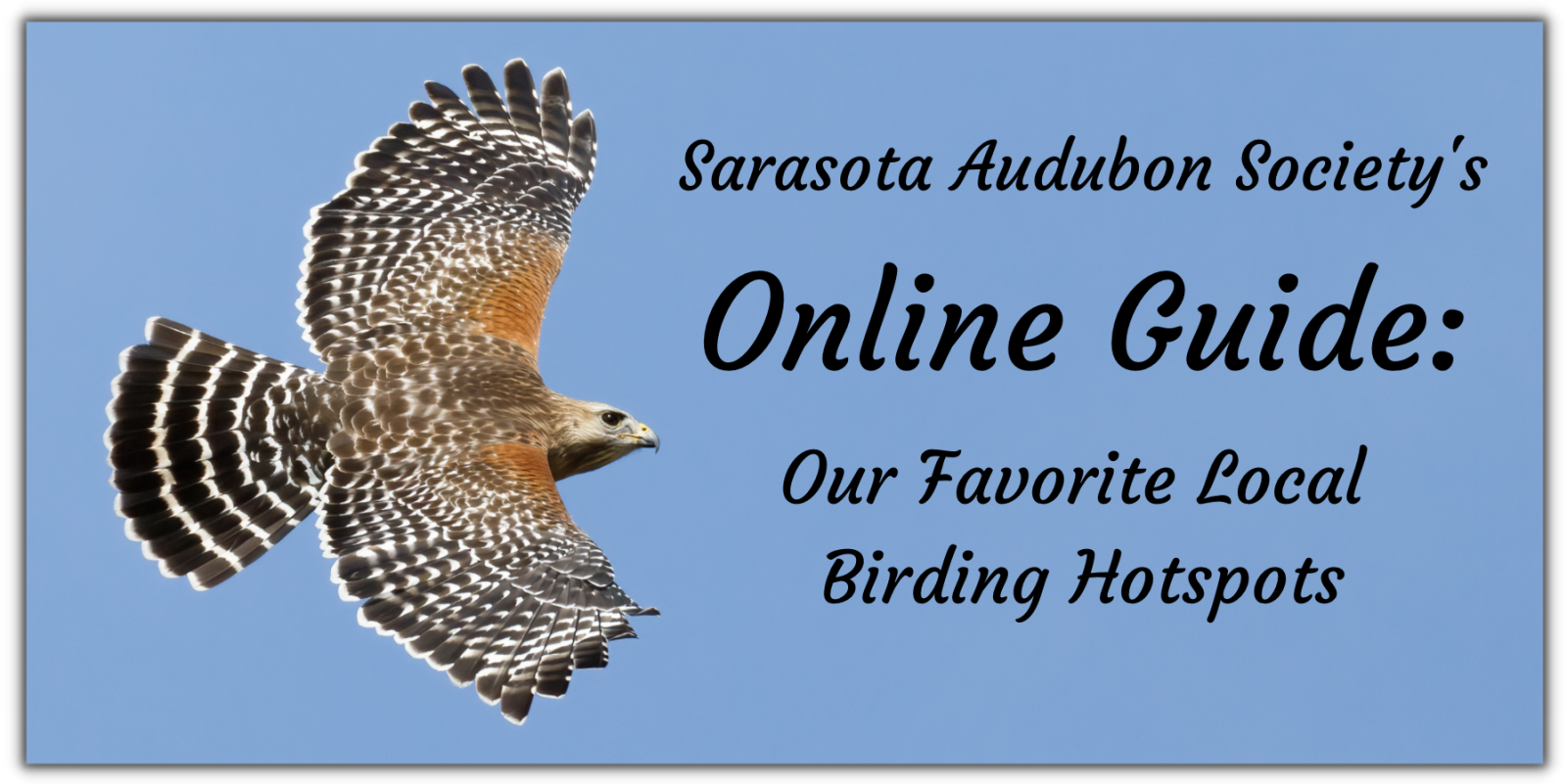 Severe weather and health related conditions may create destination hazards and closures. It is recommended that visitors check destination websites, or contact the facility to determine if the site is open, scheduled programs are available, or if there are any other circumstances that might alter birding opportunities. Birders and birding photographers are reminded to always follow ethical birding practices, such as those recommended HERE.
Click the binoculars to expand and collapse the information about each hotspot.
The Sarasota Audubon Society is pleased to include this interactive website component, updated for 2022-2023, called the Online Guide: Our Favorite Local Birding Hotspots, or simply, the Online Guide. These favorite birding places are located mainly in Sarasota County, with a sampling in Manatee County. Each favorite hotspot was selected, first, because of the high number of bird species recorded at that location (based on eBird All Years Species Counts greater than 135, including exotics) which entice repeated visits by many local and out-of-area birders, both national and international. Second, the selected Sarasota County favorites are located within a driving time of approximately 45 minutes, or less—and often considerably less—from a central, downtown Sarasota City location (using Google Maps driving time data). For Manatee County locations, the selected locations have the highest bird counts and also meet our driving distance requirement. Third, all locations must be accessible to the public, although some destinations are privately owned and may require admission fees. Lastly, these places should provide opportunities for enjoyable outdoor birding adventures while offering iconic southwest Florida scenic landscapes and/or other wide-ranging family activities.
The information offered for each of our favorites is based initially on the Sarasota Audubon Society pamphlet Birding Hot Spots in Sarasota and Manatee Counties, Editors: Naomi Deutsch, Mark Leggett, Stuart Hills, Jeanne Dubi, 2014, Reprinted 2019. The revised Online Guide, however, provides updates to pamphlet information, adds new favorite hotspots and offers new features, such as GPS coordinates and "Insider's Tips." We have also included internet links to numerous websites, anticipating that these links will provide visitors with additional, up-to-date data about, for example, recent bird sightings, trail maps, current fees, site hours-of-operation and amenities, as well as Google Maps driving directions from any starting point. The pamphlet version of Birding Hot Spots in Sarasota and Manatee Counties continues to be available. It provides information on more than 70 hotspots and is a "must have" for birders seeking a portable guide that describes great birding locations further afield or not currently included among our local favorites.
Thanks to Karen and Don Schneider for drafting and coordinating development of the Online Guide, and to Barb Males and Betty Neupert for their website management expertise which made this web-based version possible. Numerous other members and friends of the Sarasota and Manatee Audubon Societies contributed their local birding knowledge to this project, especially Jeanne Dubi (Primary Editor), Peter Brown, Susan Daughtrey, Kathy Doddridge, Rick Greenspun, John Groskopf, Nancy Edmondson, Sue Guarasci, Margi Haas, Claire Herzog, Lynn Jakubowicz, Robert Kraft, Gloria Markiewicz, Daniel Olson, Valentina Roumi, Aaron Virgin, Sharon Wilcox, Kylie Wilson, Stu Wilson, and Kathryn Young.
Sarasota County Hotspots
From October through April, guided walks led by experienced Sarasota Audubon Society birders are scheduled at many of the Sarasota birding Hotspots included in this Online Guide, as well as at other great birding locations in Sarasota and other nearby counties. You can find out about these walks by clicking on our Activities Calendar.
Manatee County Hotspots
From November through April, the Manatee County Audubon Society hosts guided field trips to several birding Hotspots that are highlighted in this Online Guide, as well as to other birding locations. Their schedule and information for participating in these trips located on their webpage.